Little Floral Burst Coated Cotton fabric - Oeko-Tex - per half metre
Poppy Europe Fabrics
FNCOATCOTBLACKFLORAL
Gorgeous and very striking high-quality coated cotton fabric with a floral burst print of little flowers in ochre, pink and red on a black background by Poppy Europe with the Oeko-Tex 100 Standard certification. 
Coated cotton is lightweight but durable and robust. It has a matt finish with a light sheen. It's not shiny or heavy like oilcloth. It is soft to the touch and it's quite hard to tell that it's anything other than a high-quality cotton with slightly less drape.
The perfect fabric all kinds of uses including table cloths, shopping bags, lunch bags, gym bags, makeup bags, showerproof rainwear such as jackets and cagoule-type coats, trousers, aprons, backpacks and a whole host of other uses!  
Coated cotton is also great for anything that you use outdoors such as garden-seat cushion covers, tablecloths and place mats etc because it's water resistant and wipe clean.
Composition: 80% cotton, 20% polyacrylic 
Width: 148 cm
Weight: 140 g/m2
Care: Wipe clean only.
--------------------------------------------------
Please add the amount you want in the Quantity box below. To buy 1 metre put 2 in the box; for 1.5 metres put 3 in the box etc. 
I will cut your fabric in a single, continuous piece.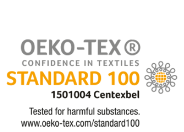 Fabric price:
£5.50 per half metre
£11.00 per metre