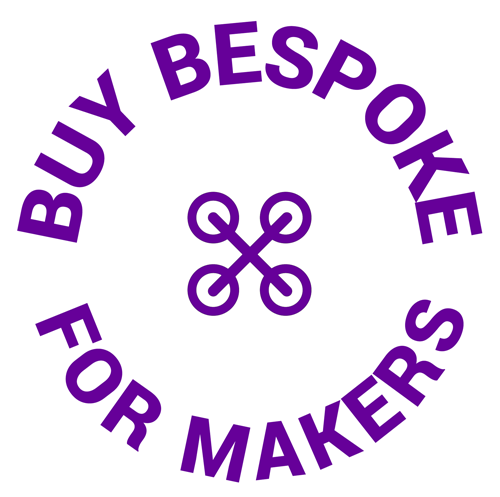 Buy Bespoke For Makers
BUY BESPOKE FOR MAKERS
Buy Bespoke For Makers gives you big discounts on outstanding quality fabrics by top brands with no hassle. You pick from literally 1000s of fabrics from brands including Poppy Europe, Swafing, Nooteboom, John Louden, Rose & Hubble and many more, and I do the rest!  
A new Simple Life Fabrics scheme, it's designed specifically for small businesses, makers, Etsy sellers and serious home sewers who want more choice, better consistency of supply, larger quantities and cheaper prices.
HOW DOES IT WORK, IN BRIEF?
Email me and I'll send you links to large, top European wholesale brands' websites, and give you the option to receive screenshots of fabrics from another very famous brand.
These brands only produce top-quality fabrics and they are the brands I currently buy from and sell at Simple Life Fabrics.
You choose any fabrics you want me to order and import for you (minimum order 5 metres of a single fabric) from any category on their websites, i.e. any kind of dressmaking fabric, jersey and French Terry, 100% cotton, softshell, canvas, double gauze, big-name quilting fabrics, GOTS organics, denim, corduroy, décor, upholstery etc, etc. If it's on their website and in stock I can get it for you!
In addition, if you are looking for a specific fabric with a certain print, I can search across a number of other UK and European brands for you.
Email me with your choices, I will give you some prices, you pay me up front and I import the fabrics for you – at a discount on the retail price of up to 30% or more.
THE DETAILS
Minimum order amounts
The minimum order is 5 metres of a single fabric. If you order 5 metres the rest of the bolt will go on sale on our website. If you order a full bolt – 10-12 metres - I won't have any left to sell!
Discount amounts
You will get a discount of approximately 14%-30% off the normal retail price, often more, depending on the type of fabric.
For example, a jersey fabric on sale on our website for £7.10 per half metre / £14.20 per metre would be £6.00 per half metre / £12 per metre to you. All prices include VAT.
Postage to you
The fabric is sent to me initially. I pay all the import duties, Rules of Origin tariffs, and shipping costs from Europe.
Once I get your fabric, if it weighs under 6kg I pay the postage and it goes out to you by Royal Mail Tracked 24 - this will apply usually to one full bolt or 10-12 metres.
If it's over 6kg, where you've ordered more than 10-12 metres, it will usually be split into two or more parcels and sent either by Tracked 24 or via DPD Next Day. The charge will be £10 including VAT for parcels over 6kg.
If you have a larger order of a number of full bolts then I will give you a quote.
Payment
I will need payment up front to be able to order the fabric. Once I have your choices I will email you a quote via this website which will give you the option to pay in the normal way via PayPal or card. I can't order the fabric until you have paid me.
Delivery times
Delivery times will vary. There are minimum order requirements at wholesalers so if I don't have enough orders there could be a delay while I get enough to do an order.
Also, some suppliers are faster off the mark than others – so it could take anything from 10 days to a month plus for them to actually send the fabric. No guarantees on timescales but I am a well-known hassler of suppliers when it comes to prompt shipping!
NEXT STEPS…
If this sounds interesting, email me at sarah@simplelifefabrics.co.uk . If you're interested in specific types of fabric or brand names then please do let me know because I can access a wide variety of different fabrics! 
p.s. please ignore the 'buy' function at the bottom of this page!